Sunglasses: RETROSUPERFUTURE // Dress: bought in China // Cardigan: charity shop
Mary Janes: New Look // Vintage necklace: gift from Jian Wei years ago //
Bag: stolen from Jian Wei's mum's attic.
This is what I wore on what transpired to be the hottest day of the year, reaching a whopping thirty degrees centigrade and god-knows-what on the Underground. I made a minor error in wearing a heavy wool dress and veritably melted on my way into central London for a spot of Brick Lane shopping and lunch with Jian Wei. I discovered a bizarre vintage shop called This Shop Rocks which combined a jumble sale style shop floor with stunning pre-1960s clothing nonchalantly flung in rummage bins alongside highstreet brands such as H&M. It actually made me quite upset to see such delicate fabrics treated with so little respect - torn and ratty on overstuffed rails - and was literally astounded to see that many had price tags exceeding £100. Surely if one is in a position to treat oneself to a gorgeous vintage frock the shopping experience should be a little more indulgent that simply selecting the least abused item from a basement floor? Charity shops and carboot sales are exciting precisely due to the potential of uncovering some treasure amongst the rubbish, but vintage boutiques should value their wares and display it accordingly. Especially if they are pricing in the three-figure range.
I bought the cream leather Mary Janes from the New Look sale for a measly £5 in the sale and I absolutely love them. Mary Janes are always so pretty and classic. The vintage necklace is a little like the teardrop necklace I remember from the children's book A Necklace of Raindrops and Other Stories by Joan Aitken I use to be in love with when I was little. Jian Wei bought it for me for my birthday a couple of years ago from a wonderful antiques showroom in King's Lynn called The Old Granary. It's one of my favourite places to get lost in when I'm home. The cardigan is falling to pieces but it's too cute to throw away!
As you can see I'm still enamoured by my Lucias and - touch wood - haven't lost them yet.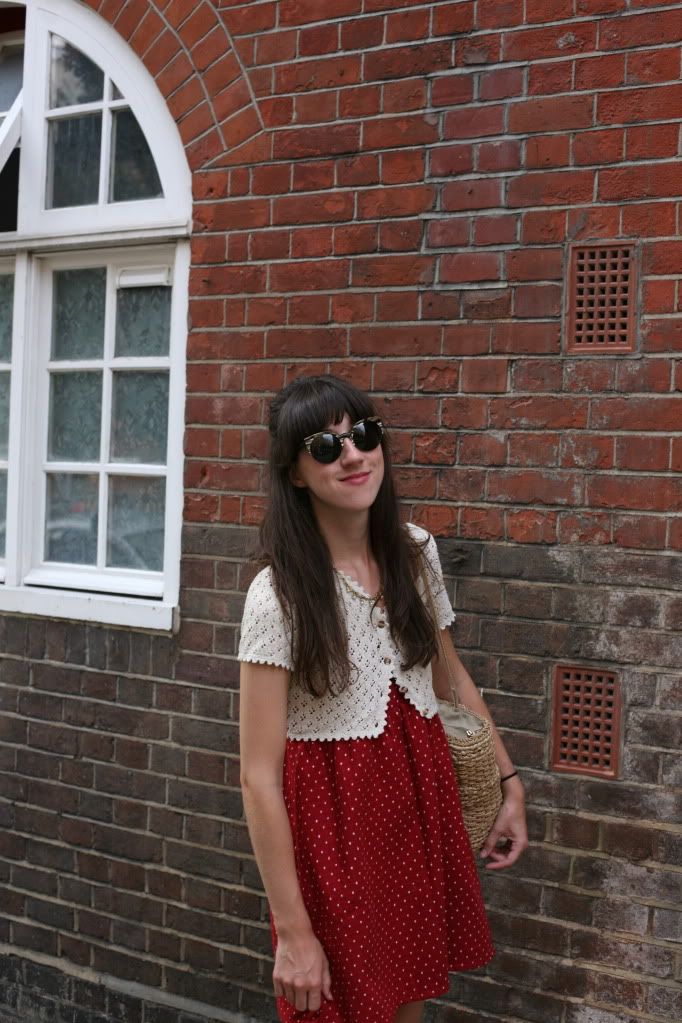 Yesterday (not the same day this outfit was photographed!) I was supposed to have a half-hour trial shift at a rather posh womenswear shop in Covent Garden. As it was pouring with rain the manager rescheduled me for a two-hour trial on Saturday and informed me I must wear heels. He also stressed the need for 'grooming' and informed me that if 'grooming' wasn't my thing then the job really wouldn't be right for me. Should I be offended?